Accessibility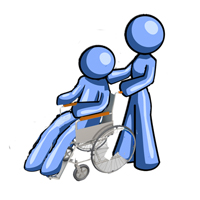 Geraldton District Hospital is committed to treating all people in a way that allows them to maintain their dignity and independence. We believe in integration and equal opportunity. We are committed to meeting the needs of people with disabilities in a timely manner, and will do so by preventing and removing barriers to accessiblity and meeting accessibility requirements under the Accessibility for Ontarians with Disabilities Act.
The Hospital has accessibility policies in place as well as annual and multi-year accessibility Plans.
Accessibility formats and communication supports for people with disabilities are available upon request.
---
Feedback
completing a client comment cards available throughout the hospital
contacting the Chief Executive Officer in person at (807)-854-4107
by using the Bell Relay Service by calling (800) 855-0511
by email at

geraldtondh%23com| lbonanno

sending a letter addressed to the Chief Executive Officer, 500 Hogarth Avenue, Postal Bag #4, Geraldton, ON, P0T 1M0
other feedback processes will be established in consultation with individual persons with a disability, upon request
---
Links