Announcement of New Medical Co-Chief of Staff
Geraldton District Hospital CEO Update
Announcement of New Medical Co-Chief of Staff
It is with great enthusiasm that we announce a new Medical Co-Chief of Staff at Geraldton District Hospital, Dr. Ryan Zufelt.
A motion was tabled and passed at the Board of Directors meeting held on September 12, 2017.
Dr. Laine, our long-time community physician, who is greatly respected and revered, will remain and carry on with his duties as Chief of Staff, and Dr. Zufelt will now be the Co-Chief of Staff, where he will take on many of the duties of the Chief to assist Dr. Laine.
This role has expanded with new regional clinical projects currently underway. For example, there is a large scale information technology project underway across the LHIN (Local Health Integration Network), specific to online clinical reporting for all hospitals, which will have a direct effect on physicians and how they report in the patient charts. This is just one project, but there are many and both Dr. Zufelt and Dr. Laine will represent GDH when the LHIN calls a regional physicians meeting.
"We have the greatest confidence in Dr. Zufelt representing our hospital and community", said the Chairman of the Board, Mr. Jamie McPherson.
Dr. Zufelt was born in Toronto and grew up in Barrie, Ontario. He completed medical school at the University of Toronto (U of T) and completed his residency in Barrie via the U of T medical program. He started at Geraldton District Hospital right after his residency in August of 2013. "It is a great opportunity and privilege to be Co-COS here", Dr. Zufelt said of his new role.
We are very fortunate to have his expertise and input on our Board of Directors and working so closely with Dr. Laine to continue to provide best practice in clinical care, along with our entire physician team.
The CEO of Geraldton District Hospital, Lucy Bonanno, stated to all hospital staff in a recent communications to announce this new appointment, "He (Dr. Zufelt) is part of the hospital community, along with his beautiful wife and family, and I have no doubt he will work closely with Dr. Laine and represent GDH at all medical regional meetings moving forward in this new world of medical technology".
Join us in congratulating Dr. Zufelt on his new role in our community.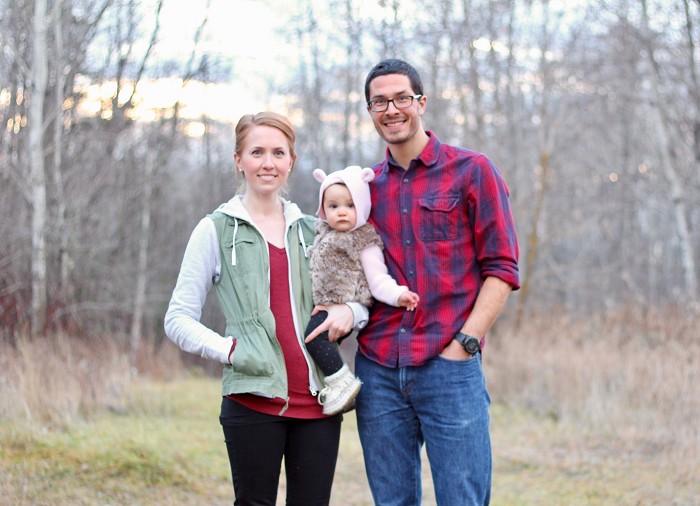 Dr. Zufelt and his family; wife Dr. Kara Ten Hoeve and their little girl.