Best Practice Spotlight Organization

---
---
BPSO Best Practice Initiatives
The Geraldton District Hospital has committed to implementing three RNAO Best Practice Guidelines over the next three years to enhance quality of care to residents and patients. The three initiatives that will be focused on within this three year project will include Pain and Symptom Management, Palliative and End of Life Care as well as Dementia, Delirium and Depression in the older adult. The picture below displays the initiatives for implementation with a collaborative approach involving residents and staff.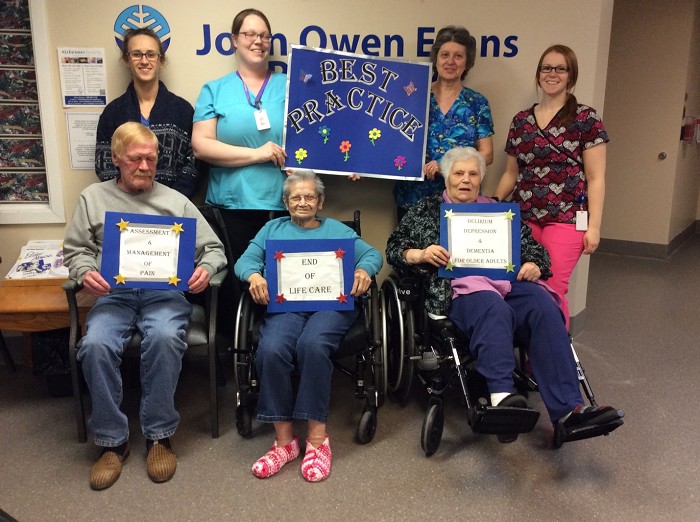 Bottom row left to right: Les Nord-LTC Resident, Isabelle Cote-LTC Resident, Shura Jarem-LTC Resident
Top Row: Kelsey Donylyk RPN, Chelsie Cormier PSW, Madeleine Rockburn PSW, Kayli Gagnon RPN
---
Geraldton District Hospital
BPSO Steering Committee
In an interdisciplinary team approach, a BPSO steering committee has been developed to work towards implementation of three selected best practice guidelines to achieve recognition and designation as a Best Practice Spotlight Organization. The steering committee will meet monthly to plan, implement and sustain momentum in this project. Our steering committee members can be noted in the picture below.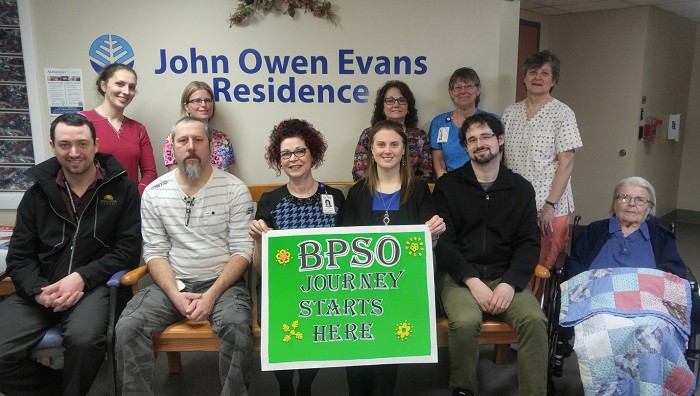 Front left to right: Ian McPherson Quality improvement and decision support, Kevin Belisle Information Systems Coordinator, Laurie Heerema Chief Nursing Executive, Keri Cloutier LTC Nurse Manager, Michael Ciancone Occupational Therapist
Back Row left to right: Liane O'Brien Recreational Therapist, Michelle Curtis RAI Coordinator/RPN, Maria De Jesus Recreational Aide, Celine Du Vall LTC Coordinator/RPN, Madeleine Rockburn PSW
Missing: Kelsey Donylyk RPN, Kathryn Brockton PSW
---
For more information on Registered Nurses Association of Ontario Best Practice Spotlight Organization visit: http://rnao.ca/bpg/bpso