Geraldton District Hospital Raises Funds at
Geraldton District Hospital Raises Funds at
Annual Christmas Dance 2017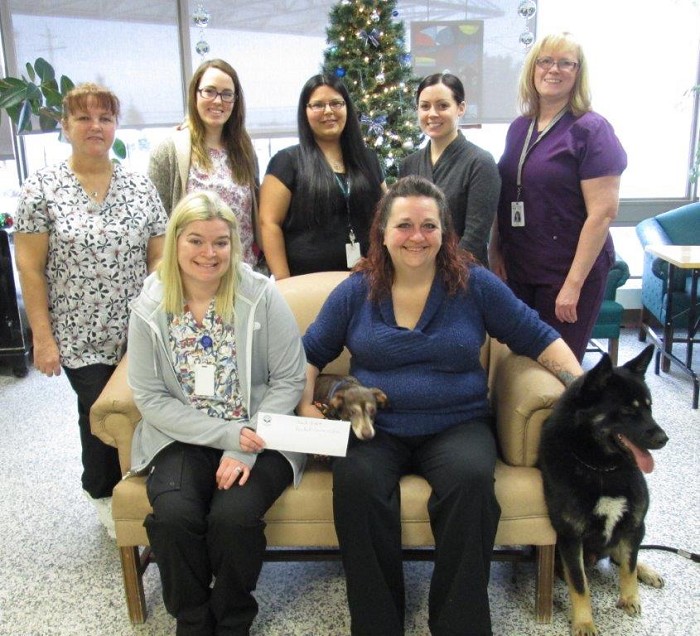 From Left to Right:
Back row - Lori McDonald, Melanie Rocheleau, Candice Bottle, Jade Fortier, Jenny Leuenberger,
Front row – Paulette Abraham, Luisa Wilson, Want-a-Pet President holding Boomer, with Buddy by couch
The Employee Health and Wellness Committee at Geraldton District Hospital is pleased to announce, that through their diligent efforts, and the generosity of those attending on Saturday December 2, 2017, managed to raise $1158.00 at the hospital's annual Christmas Dance. This is the highest amount ever raised to date!
The Committee members decided to keep the funds within the community and chose to donate to 2 well deserving individuals, who are doing wonderful work with homeless and abused animals.
Ms. Luisa Wilson, President of 'Want-A-Pet', in Longlac, received a cheque for $958. She currently has 2 special needs dogs that require surgical intervention. Boomer (dog in her lap), is a 10 year old senior dog who was voluntarily surrendered by his owner who could no longer keep him. He requires major dental surgery as he is in great pain when he eats. Then we have Buddy, larger dog sitting by the couch, which is 2 years old and was found on the side of the road, after being hit by a car and had extensive internal injuries. He will require multiple surgeries, his teeth and jaw, his hip and his genitalia. Both are very sweet dogs who are looking for loving homes.
A smaller portion of funds was donated towards a community individual in Geraldton, who assists with fostering homeless cats. Both of these individuals are doing great work and more than not, give of their own funds to care for these unwanted animals. Without these caring people, more animals would be suffering in our communities. Join us in congratulating both of them for their selflessness and big hearts in opening their homes for these deserving animals.
Both women thanked everyone and were very grateful for the donations. Should you be seeking a new pet to add to your family, please consider adopting one of these animals that are looking for their forever home.
Happy Holidays