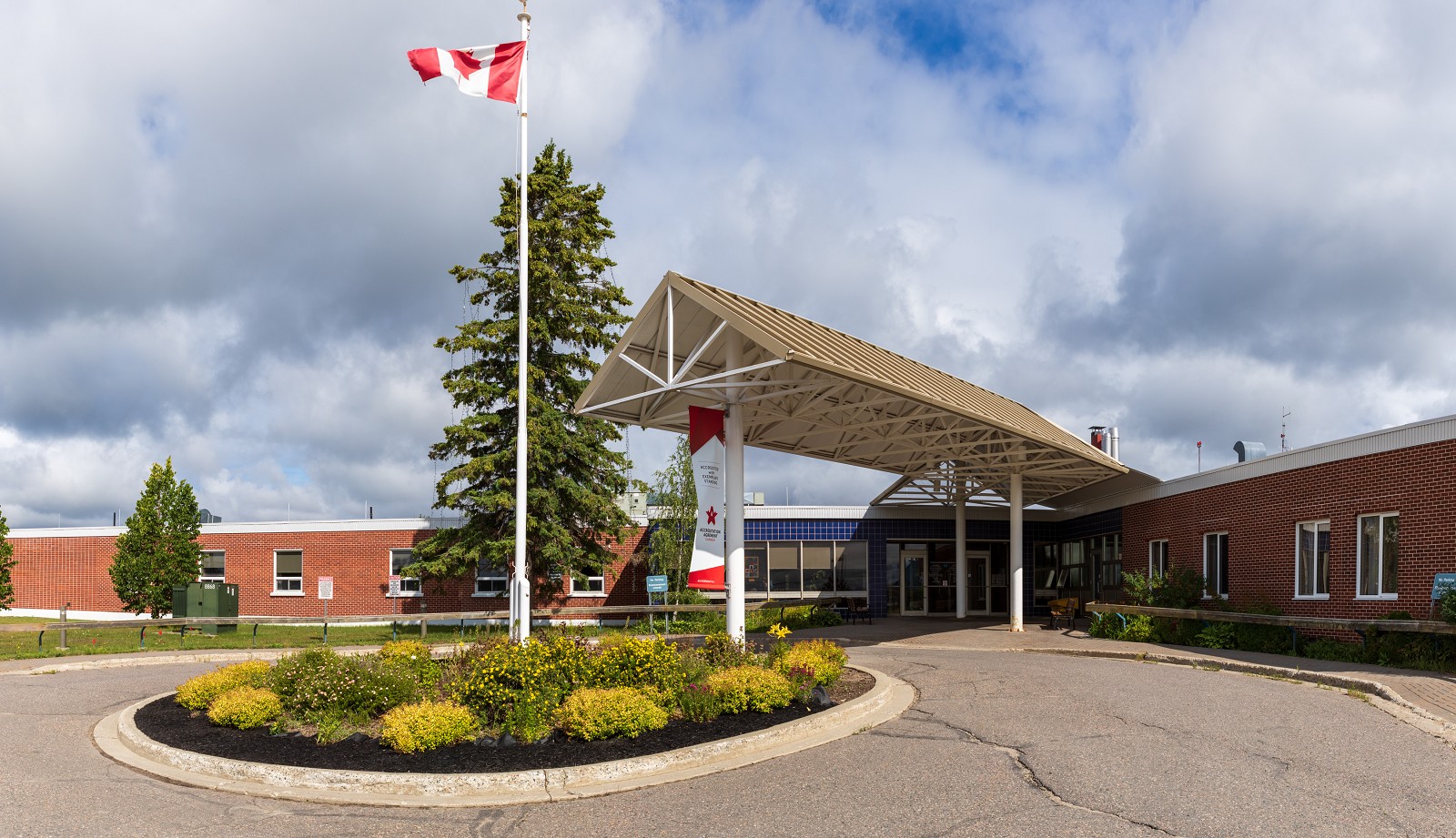 News
Best Practice - Success!
Putting the P.I.E.C.E.S Together in Long Term Care
Becoming a Best Practice Spotlight Organization (BPSO)
Nursing is truly a diverse profession where we have the opportunity to immerse ourselves into a multifaceted culture filled with choices of health care sectors. We can encounter and experience multiple situations, interact and care for numbers of clients with multiple ailments, test our knowledge, critically think and develop resilience to change. With the overall aim to deliver and achieve individualized quality care, nothing can be more rewarding or gratifying than when the client, family and health care team are able to "put the P.I.E.C.E.S together" to attain optimal outcomes for persons in our care.
Consider for a moment what a day in the life of someone living with Dementia must be like: Unable to organize their thoughts or verbally communicate what one may be thinking, performing actions to communicate unmet needs, desires or thoughts, trying to express yourself with limited comprehension or understanding of the message you are trying to convey. Others act in fear or anger in your attempt to express yourself… This was just the case within our Long Term Care Home, the John Owen Evans Residence in rural North Western Ontario which has 26 beds. At the beginning of our journey to become a Registered Nurses Association of Ontario (RNAO) Best Practice Spotlight Organization (BPSO), we never could have imagined how our team, led by the previous Interim Manager of Long Term Care, Jenny Leuenberger, Registered Nurse, could come together to have such a profound impact on resident care.
Our BPSO Project focused on implementing the Assessment and Management of Pain and the Delirium, Dementia, and Depression in Older Adults; Assessment and Care best practice guidelines (BPG's). The unit welcomed Mr. G in the fall of 2018, a few months after the team started our BPSO project. Soon after admission, it was evident that M. G was expressing responsive behaviours, displaying aggressiveness towards others by grabbing and kicking at fellow resident's wheelchairs, hitting out at staff and displaying repetitive motor expressions. In order to put a plan of care together, the interdisciplinary team, along with the P.I.E.C.E.S Resource Team and the resident's family met to explore the possible causes for the resident's actions, to explore interventions for a resolution, and to better understand the meaning behind the resident's interactions.
A P.I.E.C.E.S assessment considers the person's Physical, Intellectual, and Emotional health, supportive strategies to maximize capabilities, the individual's social and physical environment, and his/her social self (cultural, spiritual, life story). With exploration into the resident's personhood, the team was able to piece together triggers for exhibited behaviours, such as the need to use the bathroom, hunger, presence of pain and boredom. Jenny Leuenburger RN states "I felt as the team lead, it was very important to involve all staff, family, the interdisciplinary team, volunteers and senior management with consistency with the interventions and approach towards Mr. G"
Using an interdisciplinary team approach and P.I.E.C.E.S resources, the team identified the presence of pain as a contributor to the actions displayed. Sally Ten Hoeve, Registered Nurse and the Staff Educator of the Geraldton District Hospital states "We are very fortunate to have several key players on Long Term Care who are trained in the P.I.E.C.E.S process, which allows any one of them to facilitate a P.I.E.C.E.S approach when there are issues. It is not one person; it is a team approach, which achieves maximum success."
The Pain assessment in Advanced Dementia (PAINAD) scale had been put into place as part of the Pain BPG Implementation and was used with Mr. G. A regularly scheduled analgesic was implemented. In addition, a scheduled toileting routine was identified and implemented by the nursing staff. Dementia Observation System (DOS) assessments were completed. Mr. G displayed improvements with a decreased reporting of repetitive motor expressions, offering more frequent smaller meals throughout the day and ultimately decreasing rummaging activity.
An increase in 1:1 pro-attention interaction as well as group activities led by our Recreational Aide Maria De Jesus, and Recreational Therapist Liane O'Brien contributed to lessening periods of agitation. These activities enhanced the Residents Assessment Instrument-Minimal Data Set (RAI-MDS) scoring specific to the resident's Social Engagement Index (SEI) and decreased the resident's Aggressive Behavioural Scoring (ABS). There is also a noticeable reduction of submitted incident reports and aggression through progress note documentation. Ultimately, this success also helped our Long Term Care unit to revise our Responsive Behaviour Program which had been identified as a gap in our review of the Dementia, Delirium and Depression BPG.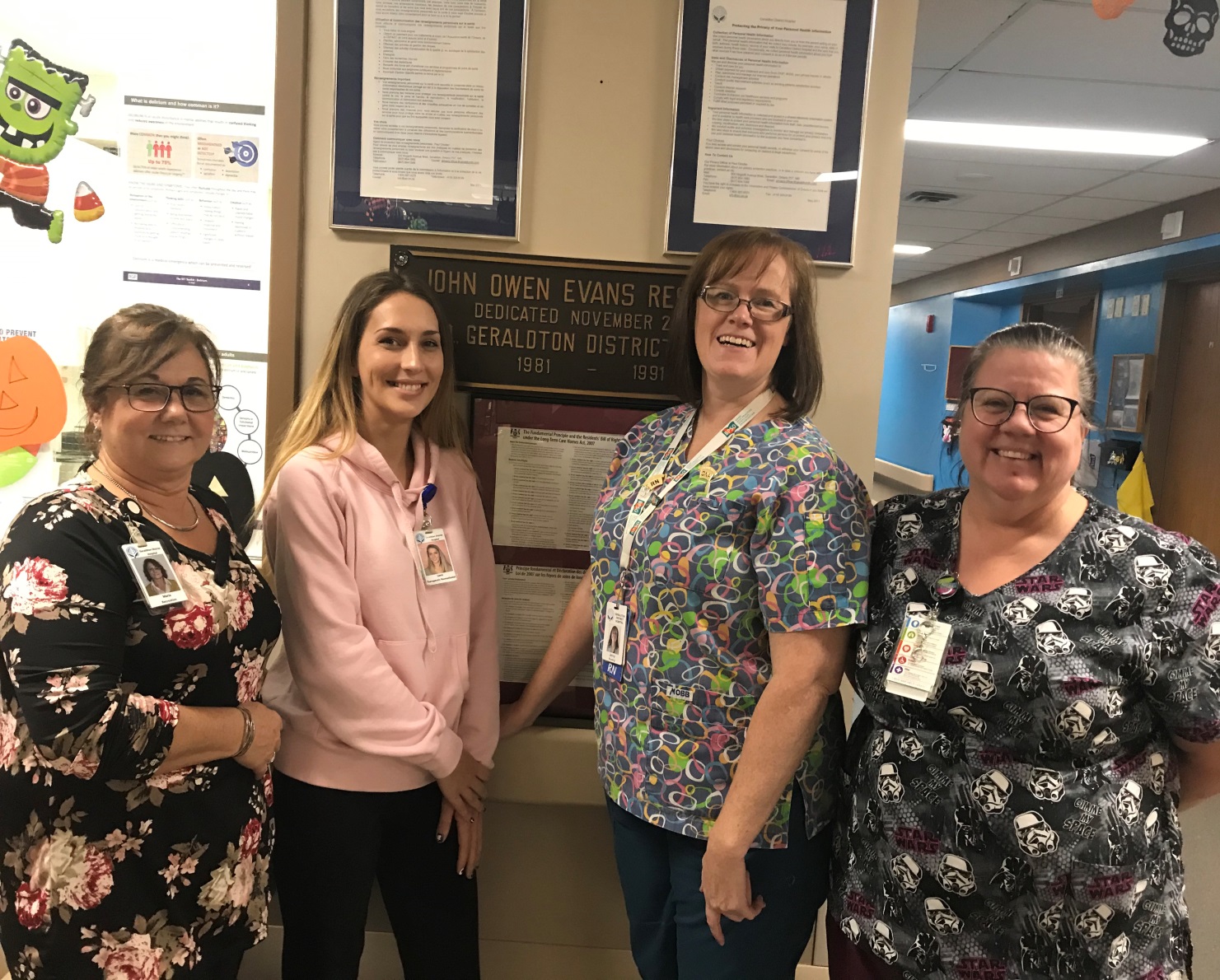 Members of the BPSO Steering Committee at Geraldton District Hospital's John Owen Evans Residence are seeing improved resident outcomes thanks to their PIECES approach to care. Picture is, left to right: Recreational Aid Maria De-Jesus, Therapeutic Recreationalist Liane O'Brien, Acting Long Term Care Manager, Jenny Leuenberger, and Staff Educator/Telemedicine Coordinator Sally Ten Hoeve.
Our LTC home has demonstrated the ability to implement evidence-based care, even in this challenging setting. By exploring all the pieces of a person's "personhood", including their past occupation, likes and dislikes, past experiences and hobbies in collaboration with information gathered from the resident, their family and a specialized interdisciplinary team, individualized quality person-centered care can be achieved. With placement into Long Term Care, life does not cease but continues on a path where the whole person is recognized and embraced.